Acupuncture: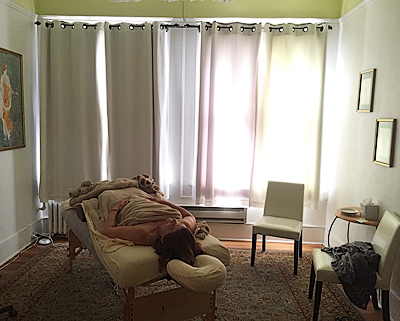 This 5,000 year old healing art has its roots in Asian Culture. A medicine founded upon the theories of yin and yang, the five elements, and the 12 meridians. Its principle is that all symptoms of illness are manifestations of a root cause. Chinese medical diagnosis seeks to determine and treat that root cause with the use of acupuncture, herbs, nutrition, and qi gong.
What Can Acupuncture Treat?
Acupuncture is a holistic approach to healing, therefore it can be used to treat many diseases. People have found acupuncture helpful for many conditions such as injuries, regulating hormones, physical pain, insomnia, depression, stress, emotional and spiritual issues, congenital problems, autoimmune disorders and other chronic illnesses. There are 3 different levels of a person's well being; the mind, body and spirit. The root cause of dis-ease can exist on any one of these levels. Acupuncture treats all three levels at once, assisting the body's own innate healing system, and bringing the body, mind and spirit back into balance.
Your First Acupuncture Treatment
First appointments are usually 1.5 hours as the practitioner takes time to do an in depth interview and physical exam. Subsequent sessions are 60 minutes and needles are retained for 20-45 minutes. Massage, cupping, or moxibustion (heat therapy) may be applied in combination with the acupuncture treatment. It is recommended to plan a light schedule for yourself on the day of your first appointment, abstain from caffeine, alcohol, and vigorous exercise. After the treatment drink plenty of water, rest, and eat a light healthy meal. Course and frequency of treatment varies from patient to patient.
Prior to Treatment: Recommendations
Eat something before your treatment
 Fill out paper work prior to treatment or
 Arrive 10 minutes early to fill out paper work
 Bring cash, check or credit card for payment
Payment is due at time of treatment
Bring insurance card
Verification of insurance benefits prior to treatment is required
Post Treatment : Recommendations
Drink plenty of water & rest
Avoid extreme exercise
Avoid caffeine
Avoid alcohol